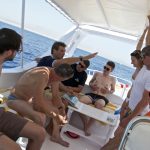 The Divemaster course brings up to a professional level your skills and diving concepts acquired during you diving career.
This course will develop your abilities in organizing and planning recreational dives with other certified divers, as well you will learn how to guide and supervise each dive and how to provide assistance during diver's training.
The Divemaster course is your first 'step' into the professional diver level.
During this course the experience of your instructor is crucial to make sure you get all the information you need to become a professional diver.
The staff of Sharm Scuba Service will follow you 'step by step' to ensure you an excellent training.
Prerequisites:
Must be min. 18 years old
Must be a certified Rescue Diver or equivalent
Must be certified EFR (emergency first response) and be in current renewed status
Provide proof of 40 logged dives to start the course
Provide proof of 60 logged dives to be certified
Provide copy of Doctor approval to confirm you are fit to dive
Bring your own diving gear 
The Divemaster Course lasts 2 up to 4 weeks and all training materials required to complete the course are available at the diving center.
Divemaster crew pack and Divemaster registration fee are not included