Open Water course
The Open Water Course lasts 3-4 days and includes all theory, final exam, videos and knowledge reviews required to become a certified diver with international recognized certification.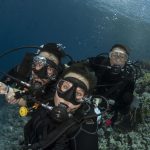 The Open Water Course includes 5 knowledge reviews sessions, 5 confined water training sessions in the swimming pool, to practice some basic diving skills and to learn how to control your scuba equipment and your buoyancy control.
The Open Water Course includes also 4 open water dives in the Red Sea where you can experience what you have learned during your swimming pool sessions.
You will also be albe to enjoy your dives under direct supervision of our professional instructors and to enjoy the beautiful underwater world.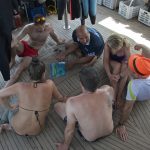 At the end of the course you will be a certified Open Water diver, able to dive to a maximum depth of 18 metres, every where in the world with another qualified diver.
Pre-requisites:
Be at least 10 years old
Be fit for diving
Be able to swim for 200 metres
Be able to float for 10 minutes
At the end of the course you can also decide to add 2 more training sessions and become a certified Advanced Open Water Diver, able to dive up to 30 metres with another qualified diver.
Our Open Water Course includes full diving equipment.
All material required to attend the course is available at the dive centre.
Open Water manual and certification processing fee are not included.