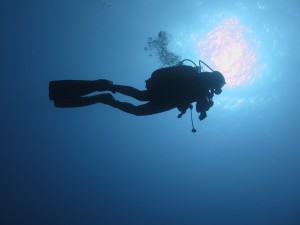 The Advanced Open Water course takes just 2 days and includes all knowledge reviews and required diving skills in order to become an international  recognized Advanced Open Water diver.
The Advanced Open Water Course is composed on 5 adventure dives, which are conducted directly in the Red Sea and will allow you to explore the underwater marine life to a max. depth of 30 metres.
Deep dive and Underwater Navigation dive are mandatory as per diving standards. You can then choose your other 3 Adventure Dives with your instructor as part of your Advanced Open Water Course.
Many of our Adventure dives are available also from the boat such us: Drift dives, Multilevel dives, Underwater naturalist dive, Wreck dives, Night dives and many more.
Pre-requisites:
Be at least 12 years old
Be a certified Open Water diver or equivalent level
Be fit for diving
Children: 12-14 years old are certified as 'Junior Advanced', able to dive to a max. depth of 21 metres. Starting from 15 years old the Junior status is automatically lifted and they will be able to dive up to 30 metres as adult divers.
Our Advanced Open Water course includes full diving equipment.
All material required to attend the course is available at the dive centre.
Advanced Open Water course manual and certification processing fee are not included.