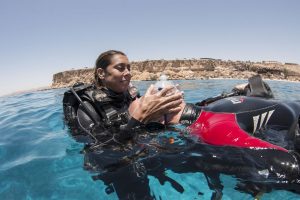 The Emergency First Response Course takes just 1 day to be completed and includes practical demonstration of CPR (Cardiopulmonary Resuscitation) heart massage and mouth-to-mouth techniques.
Related knowledge reviews and final exam are also part of the EFR course.
The Emergency First Response Course will really change your way to approach and act during an emergency situation.
The Emergency First Response Course is a pre-requisite for the Rescue diver course.
Recognized in over 80 countries, the course conforms to internationally recognized First Aid Standards.
Pre-requisites:
Be at least 12 years old
This course is suitable also for non-divers
To book your EFR Course just click here !
The EFR is conducted as dry course
All material required to attend the course is available at the dive centre.
Emergency First Response course manual and certification processing fee are not included.