Shark & Yolanda Reef – Ras Mohammed South
Considered one of the most beautiful dive sites in the world, in the Summer season Shark & Yolanda Reef is a great dive site where to spot school of Snappers hunting during the morning.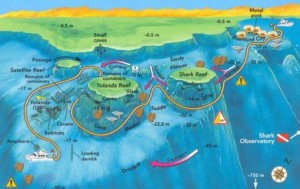 A boat dive is an experience not to miss during your diving holiday in Sharm El Sheikh.
Current is generally strong and it gives a touch of thrill to this dive, you would like to spend hours underwater in this spot which is something any diver have to see.
Shark Reef is a vertical wall connected to Yolanda Reef from the 'saddle', in this dive site Giant Morays and big Napoleon Wrasse are easily spotted, as well Pelagic fish such as Sharks can be seen in the blue. This dive is completed as Drift dive.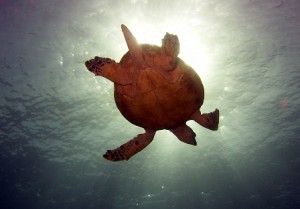 Shark & Yolanda dive site got the name from Yolanda Cargo Vessel, that sunk in 1980 at an approximately depth of 160 metres. The remaining part of the cargo is situated in approximately 15-18 metres and can be visited during the dive.
Eel Garden – Canyon
This dive site is located in the central part of Ras Mohammed national park, the dive is recommended to all Advanced divers as the depth exceed 25 metres.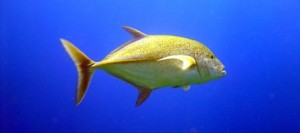 Jumping into the blue at 100 metres distance from the reef, thousands of Jackfish are swimming around during the hunting Summer season, a shoal appears from the bottom and is here where the 'Eel Garden Canyon' is.
Current is generally strong with a good visibility all year round, this allow easy spotting as White Tip Reef Sharks and Grey Sharks.
This dive site is highly recommended to Techincal divers as it is possible to enjoy the Canyon in full and to dive also the Arch located after 40 metres.
Jackfish Alley – Satellite
This Ras Mohamed national park dive site is different from all the others due to his morphology. "Drift" dive is mandatory in this dive site.

A spectacular school of hunting Jackfish and Fusilier fish are common in this dive spot. The external part of the Satellite reef offers Mantas, White Tip Sharks, Black Tip Sharks and Grey Sharks.
Jackfish Alley has also a small cave with easy access to all divers. Visibility is generally good exept few weeks during the Winter season.
Ras Ghozlani – Ras Mohammed North
Ras Ghozlani dive site is located in the north part of Ras Mohammed, offers a sandy bottom area with different pinnacles full of  marine life such as Soft Corals, Fire Corals, Shrimps, and Nudibranchs.